Create personalized sentences in the note taking of COGNITO Coach's coaching panel
You can customize the phrases indicated in your meeting notes which will apply in all your meetings in the coaching panel .
1. Select "Coaching Options" from the menu at the top right.

2. The following window will appear: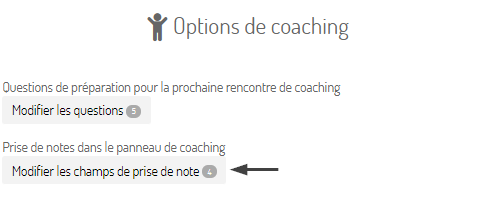 3. Click on "Edit Notes" and a new window will be available.

4. Click on the "Add a field" button or on the X to remove it. question.
A. For inspiration, click on the "Suggestions" button.
B. You can "Reorder" your questions.
5. Make your changes and save.
6. Other place where this option is available in Cognito
You can modify them directly in the coaching panel, in the Notes section by clicking on "modify the default note taking fields".
Would you like to change your coaching preparation questions? Click here .