Synchronize COGNITO Coach with the Google Calendar
First of all, in your COGNITO Coach select in the menu the tab "Calendar" and click on the button at the top right, "Calendar options" or via the "Settings" in "Calendar options" .
1. In the calendar options menu:
Check "Show COGNITO activities…", and press "Authorize Google" .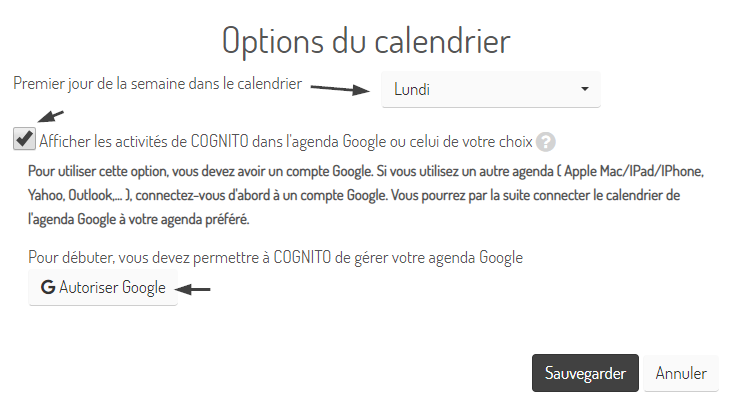 Your browser will open a new window asking you to select a Google account. If you don't already have one, tap "Use another account" to allow you to create one.
When the account is selected, press the Allow button.
2. Add Cognito Coach activities to the calendar of your choice. Use the drop-down list to select the existing calendar or add a new one.
For example, you want to view Cognito Coach's activities in your personal calendar.
You can also select "Add Calendar" to create a Google Calendar specific to your Cognito Coach activities .
You can also select "None", if you prefer your calendar to remain only in Cognito Coach .
3- You can choose the Google calendars you want to appear in your Cognito Coach

By checking the option "does not remove availability" you indicate that the activities of this diary will not remove availability for the making of appointments by your customers if you have activated this option.
All you have to do is save the calendar options window.

In a few minutes, the changes will be applied.